I am middle age and I have always struggled with my weight. Being that I am short to begin with, I have been overweight by 20 to 30 pounds the past few years (since adopting our son). This may seem easy to lose but it's really hard in my humble opinion. I have tried every fad diet known and I lose the weight and then gain it right back as soon as I go off the diet. So I gave up dieting for several years and I am still 30 pounds overweight.
Not ideal for sure but until my head gets into eating right and exercising I will continue to be unsuccessful. Full transparency, I am fat and know that I am. However, that doesn't mean that I can't dress sexy, trendy or fashionable! When I was going through chemo and lost all my hair, I used the term "own it" all the time.  Because on the days that I felt so bad and I needed to go to the office and I knew I looked a little green, I would have to have a pep talk to myself and it was "OWN IT GIRL."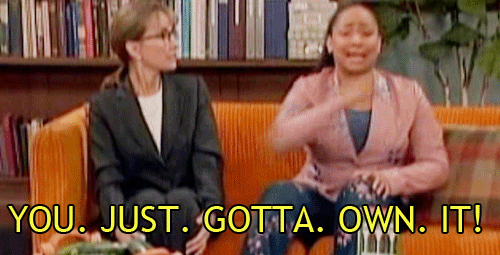 And I walked into that office with my shoulders back and portrayed confidence even when I looked and felt bad.
Well I live by that now, I own being heavy, I am not saying that I will always be heavy (just for now) because I am working on my life style change and it truly (to me) is about a life style change and not about dieting.  So every day, I own it! Here are a few of my tips;
Doesn't matter what age – I work in an office setting and we are moving into the millennial stage and I am the "middle-aged or seasoned" coworker, right? Not the most flattering thing to say to someone "oh you're seasoned…" yeah, hate that.  But I walk in every day and talk with everyone regardless of age or job or person.  Because I like being friendly and feel I can learn from anyone.
Be Trendy – I dress to look professional but a side of coolness, I want to be hip. Being heavy does not mean you have to wear baggy clothes every day!  Embrace your curves and own what you have, flaunt it and show your confidence.  Weight does not define you!
Smile – it goes a long way. Smile at people if they look at you and don't say anything. Showing your smile is a power tool.  It's in your tool kit – use it.
Try on clothes – Figure out clothes that work best for your body shape. Try on clothes! Go to the store and try on clothes.  How many times can I say that J  but it will be worth it. New app called Stitch Fix – go to power tool.Try it out.
Say YES to makeup – it hides a lot of flaws. I love makeup (probably too much) but I believe that makeup helps hide the wrinkles, blemishes or rosacea (which I have). Personally, I use Jane Iredale because it's all natural and doesn't have parabens in it. LOVE her foundation and lip gloss – just amazing!
Change your hair color – try something new. After my hair grow back from chemo it was grey, I was like – NO THANK YOU and changed it to dark brown (organic products) and felt like a new person. Change it up, change is good!
Heels please – yes, buy some heels. They don't have to be platforms but flats do absolutely NOTHING for you.  Heels elongate your legs and enhance your backside. Plus, you just feel better when wearing heels.  You will walk with more confidence.  Trust me, one inch heels makes a difference.
Step up Your Accessories – mission critical in my personal opinion. I love bracelets and scarves.  Right now I am into the kimonos.  I believe this is the area where you can afford to be most trendy and make changes to your wardrobe with a new pair of earrings, scarf, headband, jewelry, etc.  Trust me; this is where you want to have new trends each season to chain up your look.  Scarves for your neck, belt or head.  Have fun with all accessorizes!
Throw those shoulders back ladies – Pushing your shoulders back and sucking in the stomach will show the confidence that you may or may not feel. Seriously, pushing back your shoulders shows strong core and a physical strength.  It works wonders.  Try it! And PS: teach your children the same, makes me crazy to see kids today that hold the shoulders forward and slouch. Our mother took a strong knuckle to the middle of our back if we were slumping.  We have good posture to this day, it hurt!
Use what you got – one of my favorite things about myself is my eyes, so I try and always enhance them. Use what you got and enhance it!! Spend time on yourself (doesn't have to be a lot of time) but a little goes a long way.
Wear Lipstick or Gloss – It will drastically change your face and mood!
Being overweight doesn't mean wearing baggy clothes and no makeup. Own your look and invest in your look. It doesn't take much time or money but it does take effort. If you have tips, please share we would love to hear them!!